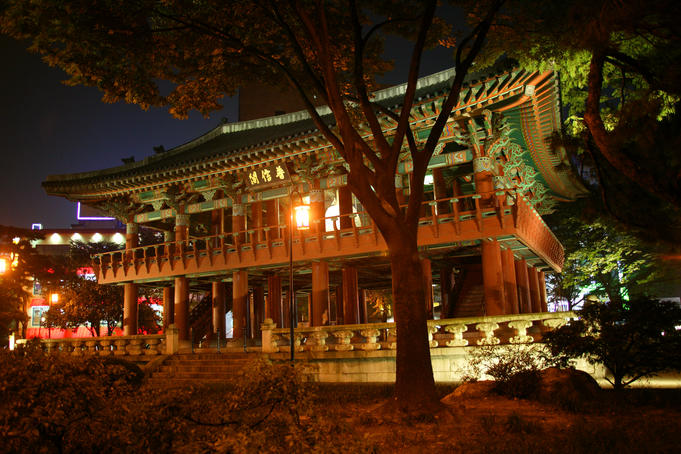 I'm heading back to South Korea on a one-year teaching contract at a private school in Seoul's city-centre,
Jongno-gu
. I applied for this job back in March and have been going through a red tape nightmare since then. Well, my work visa is finally ready and I'll be leaving on 29th July! I'm trying to keep calm as I prepare for yet another overseas adventure. I came across this short essay as I was going through my teaching resources. I wrote it before I'd had any real teaching experience (besides internships) for a course called Art in Early Childhood. Now, after over ten years of teaching, I find that I still agree with what I wrote then...
My Teaching Philosophy
Some time in the summer of 1993, I was sitting on the curb outside my brother's house with my then six-year-old nephew Michael, when he turned to me and posed the following question: "Auntie Deena, are you a kid or a grown-up?" I was twenty-three at the time. It was by far, one of the best compliments I have ever received in my life.

This little anecdote serves as the basis for the foundation of my teaching philosophy. I strongly believe that in order to be both successful and fulfilled in the teaching profession, one must have the aptitude to empathise with their students, especially young children. A special bond exists between teacher and pupil, when said pupil truly feels that the teacher understands his/her perspective.

Equally important, in my opinion, is the capacity to give praise and support and to recognise the individual needs of each student. Creating a classroom environment where each pupil feels accepted for who they are is vital.

I feel that art is a fundamental element of early childhood education. The types of activities presented to the child in art education can improve fine motor, sensory and concentration skills that can facilitate learning in all areas of schooling. There lies in art education many distinguishing factors: the open atmosphere of the classroom gives the child the opportunity to find that learning can be fun, allows for freedom of expression and stimulates a deeper exploration of the self. These valuable lessons can help build a sense of self-confidence which is essential in securing further healthy development in the classroom and ultimately, in life.

The seed of desire to learn exists within us all. Working with young children, one has the opportunity to nurture that seedling and watch it grow. I do not view the teacher as strict authoritarian. My goal as a teacher is to play the role of faithful escort, who not only guides but also walks with the student on the path of knowledge, personal growth and self-expression.
Incidentally, I'm proud to say that at the age of forty-one, I still get asked by children whether I'm a kid or a grown-up. The truth is, I'm not quite sure of the answer myself.